Library Lovers Month Custom Lanyards are Perfect for Holding Library Cards
Posted by Signature Lanyards | October 14, 2014 at 6:05pm | Topic: Custom Lanyard
February is Library Lovers Month. What could be more exciting than sharing your local library offerings with the public? Celebrate with the masses all things literary! Encourage young readers to choose their own books in the children's department of the library. Get more adults to read by telling them about the electronic lending library that you offer.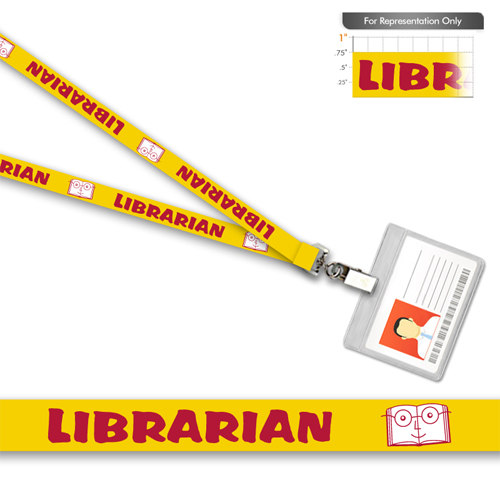 A Practical Thank You Gift is Always Welcomed

Offer a free custom lanyard to every new library patron as a way of thanking them for coming by and checking out your selection of books, movies, and music as well as the numerous programs that you and your staff offer. Tell them that their newly issued library card is safely tucked away in the pouch hanging from the lanyard.

Different Styles of Attachments to Meet Your Needs

We offer two different styles of badge holders. They are round hole and slot hole badge holders. Each offers a wide variety of sizes to accommodate your plastic library cards. You'll want them to fit securely in the plastic sleeve before handing them out to your new library patrons.

If other attachment options are preferred, please let us know. Our pricing page provides important information that will help you custom create your lanyards. You can see it by visiting http://www.signaturelanyards.com/attachments.htm/.

Offer a Gift With Every Library Card Application

Custom lanyards are perfect for holding new library cards during Library Lovers Month. Increase library card sign-ups in February with your unique and meaningful gift. Add a badge holder attachment to your polyester, nylon, woven, tube, eco-friendly or specialty lanyards today. Increase the functionability of your novelty item by making it something that people use and wear frequently.

Contact Signature Lanyards with your request for a free price quote right away. We love working with libraries around the country to come up with fun giveaway items for library patrons. Email your ideas to info@signaturelanyards.com. Call 1-800-270-9019 toll-free. We can't wait to hear from you and explore some of the many custom options we make available to you during the design process.